Inner Bali (Study Program of Undergraduate Tourism) (1 Semester)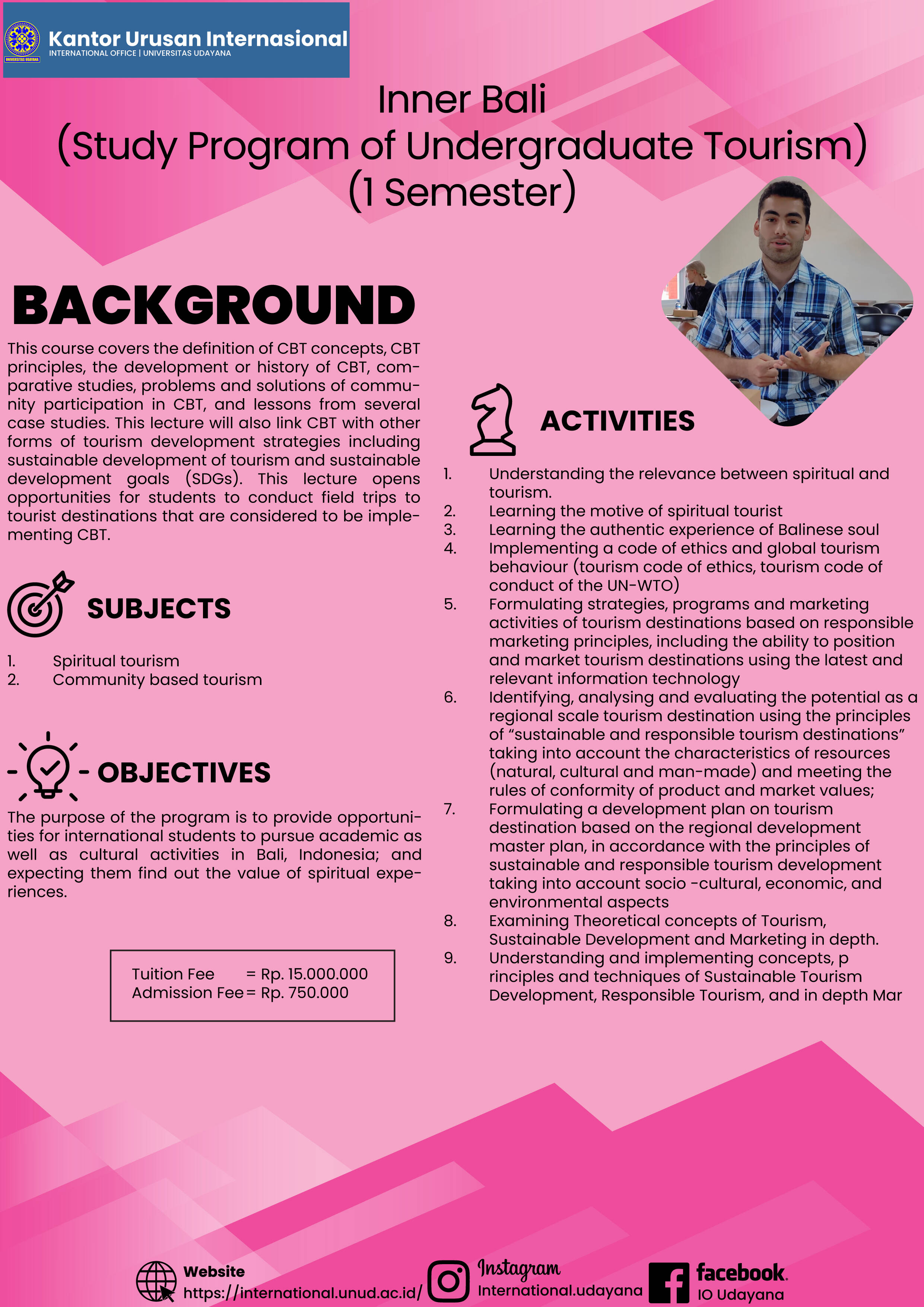 BACKGROUND
This course covers the definition of CBT concepts, CBT principles, the development or history of CBT, comparative studies, problems and solutions of community participation in CBT, and lessons from several case studies. This lecture will also link CBT with other forms of tourism development strategies including sustainable development of tourism and sustainable development goals (SDGs). This lecture opens opportunities for students to conduct field trips to tourist destinations that are considered to be implementing CBT.
OBJECTIVES
The purpose of the program is to provide opportunities for international students to pursue academic as well as cultural activities in Bali, Indonesia; and expecting them find out the value of spiritual experiences.
ACTIVITIES
1. Understanding the relevance between spiritual and tourism.
2. Learning the motive of spiritual tourist
3. Learning the authentic experience of Balinese soul
4. Implementing a code of ethics and global tourism behaviour (tourism code of ethics, tourism code of conduct of the UN-WTO)
5. Formulating strategies, programs and marketing activities of tourism destinations based on responsible marketing principles, including the ability to position and market tourism destinations using the latest and relevant information technology
6. Identifying, analysing and evaluating the potential as a regional scale tourism destination using the principles of "sustainable and responsible tourism destinations" taking into account the characteristics of resources (natural, cultural and man-made) and meeting the rules of conformity of product and market values;
7. Formulating a development plan on tourism destination based on the regional development master plan, in accordance with the principles of sustainable and responsible tourism development taking into account socio -cultural, economic, and environmental aspects
8. Examining Theoretical concepts of Tourism, Sustainable Development and Marketing in depth.
9. Understanding and implementing concepts, principles and techniques of Sustainable Tourism Development, Responsible Tourism, and in depth Mar
SUBJECTS
1. Spiritual tourism
2. Community based tourism