UPSKILL (Sustainability & Ecotourism) (Short Course) (2 Week)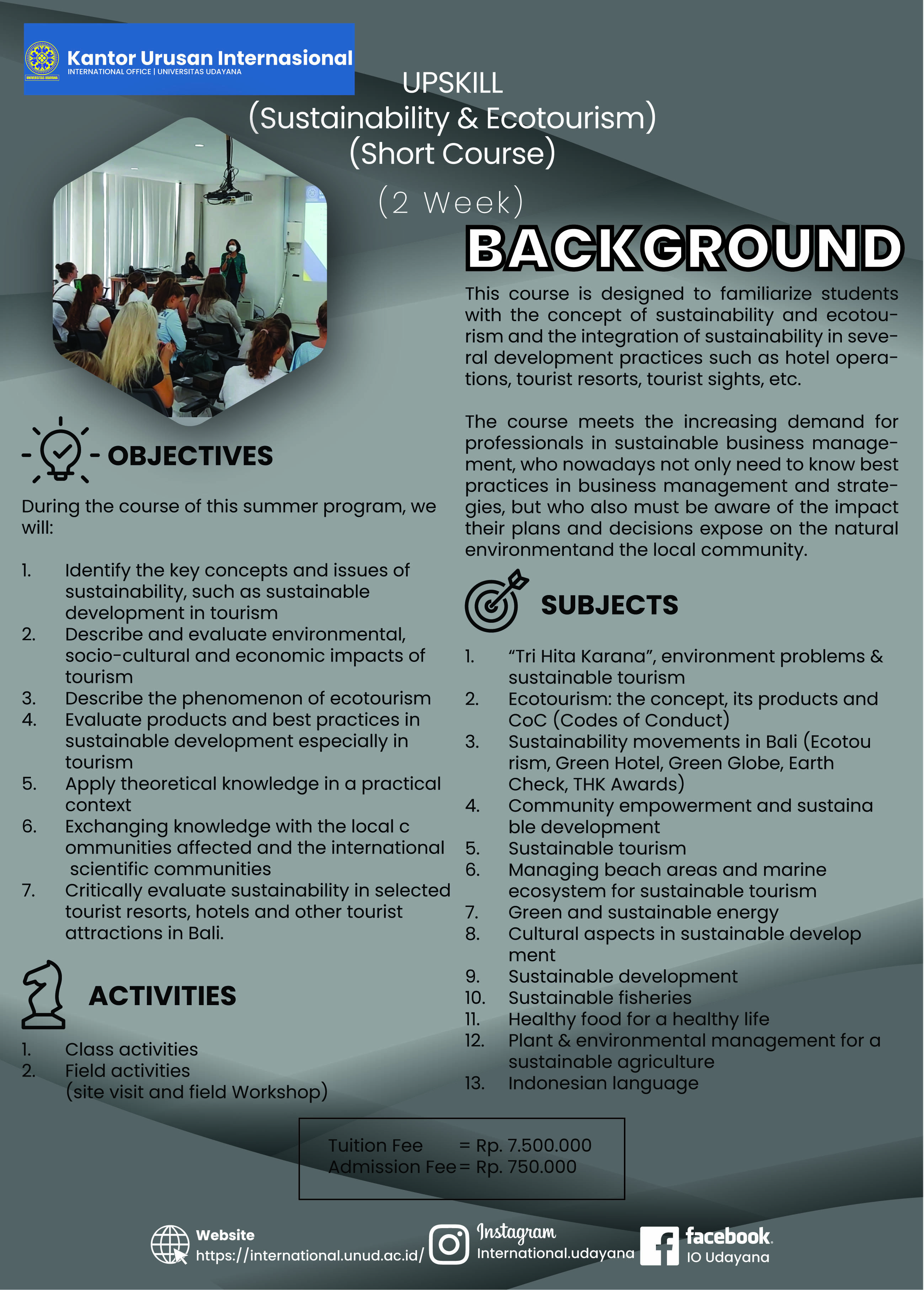 BACKGROUND
This course is designed to familiarize students with the concept of sustainability and ecotourism and the integration of sustainability in several development practices such as hotel operations, tourist resorts, tourist sights, etc.
The course meets the increasing demand for professionals in sustainable business management, who nowadays not only need to know best practices in business management and strategies, but who also must be aware of the impact their plans and decisions expose on the natural environmentand the local community.
OBJECTIVES
During the course of this summer program, we will:
1. Identify the key concepts and issues of sustainability, such as sustainable development in tourism
2. Describe and evaluate environmental, socio-cultural and economic impacts of tourism
3. Describe the phenomenon of ecotourism
4. Evaluate products and best practices in sustainable development especially in tourism
5. Apply theoretical knowledge in a practical context
6. Exchanging knowledge with the local communities affected and the international scientific communities
7. Critically evaluate sustainability in selected tourist resorts, hotels and other tourist attractions in Bali.
ACTIVITIES
1. Class activities
2. Field activities (site visit and field Workshop)
SUBJECTS
1. "Tri Hita Karana", environment problems & sustainable tourism
2. Ecotourism: the concept, its products and CoC (Codes of Conduct)
3. Sustainability movements in Bali (Ecotourism, Green Hotel, Green Globe, Earth Check, THK Awards)
4. Community empowerment and sustainable development
5. Sustainable tourism
6. Managing beach areas and marine ecosystem for sustainable tourism
7. Green and sustainable energy
8. Cultural aspects in sustainable development
9. Sustainable development
10. Sustainable fisheries
11. Healthy food for a healthy life
12. Plant & environmental management for a sustainable agriculture
13. Indonesian language