Balinese Customary Law (Study Program of Law Science) (2 weeks )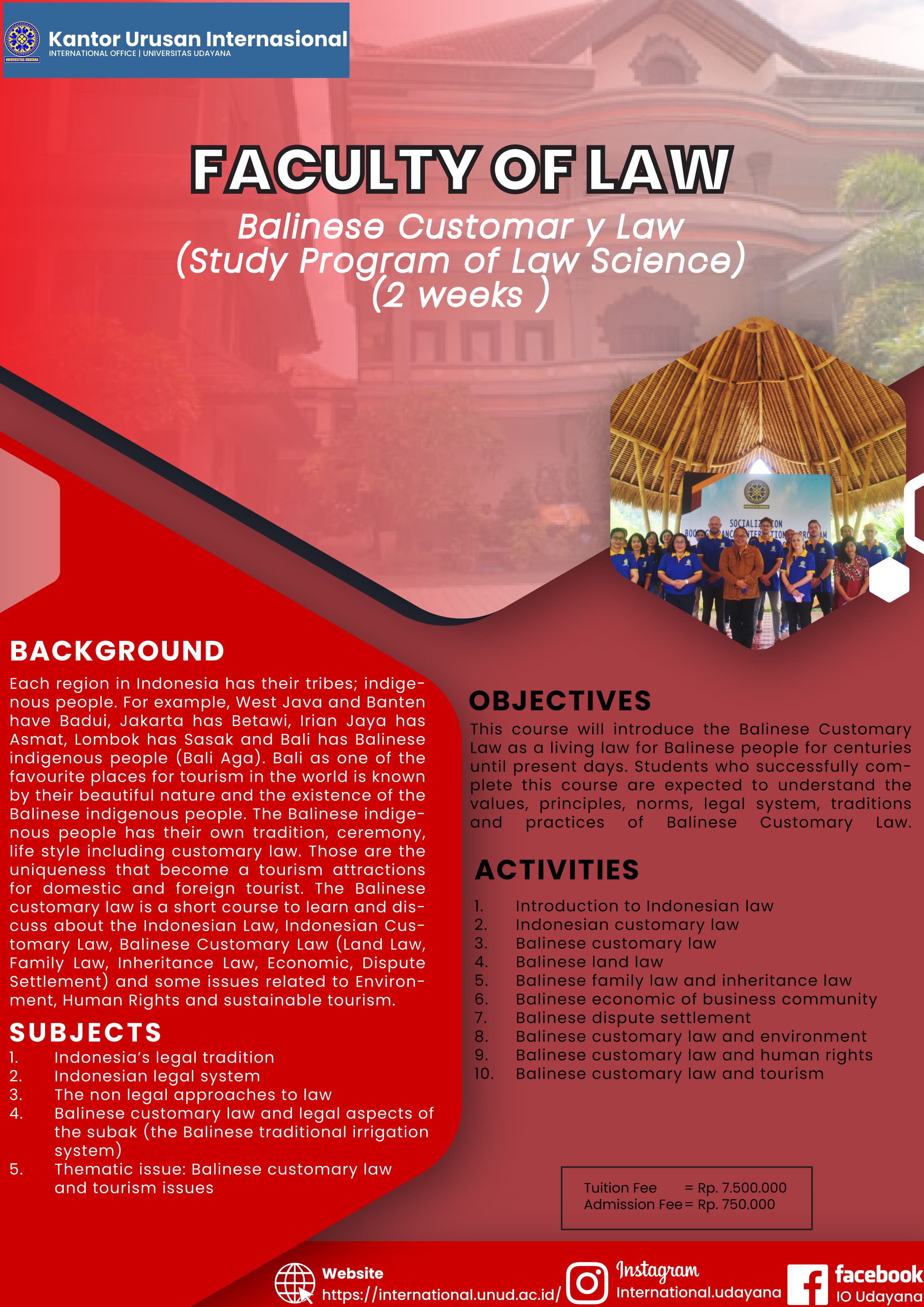 BACKGROUND
Each region in Indonesia has their tribes; indigenous people. For example, West Java and Banten have Badui, Jakarta has Betawi, Irian Jaya has Asmat, Lombok has Sasak and Bali has Balinese indigenous people (Bali Aga). Bali as one of the favourite places for tourism in the world is known by their beautiful nature and the existence of the Balinese indigenous people. The Balinese indigenous people has their own tradition, ceremony, life style including customary law. Those are the uniqueness that become a tourism attractions for domestic and foreign tourist. The Balinese customary law is a short course to learn and discuss about the Indonesian Law, Indonesian Customary Law, Balinese Customary Law (Land Law, Family Law, Inheritance Law, Economic, Dispute Settlement) and some issues related to Environment, Human Rights and sustainable tourism.
OBJECTIVES
This course will introduce the Balinese Customary Law as a living law for Balinese people for centuries until present days. Students who successfully complete this course are expected to understand the values, principles, norms, legal system, traditions and practices of Balinese Customary Law.
ACTIVITIES
1. Introduction to Indonesian law
2. Indonesian customary law
3. Balinese customary law
4. Balinese land law
5. Balinese family law and inheritance law
6. Balinese economic of business community
7. Balinese dispute settlement
8. Balinese customary law and environment
9. Balinese customary law and human rights
10. Balinese customary law and tourism
SUBJECTS
1. Indonesia's legal tradition
2. Indonesian legal system
3. The non legal approaches to law
4. Balinese customary law and legal aspects of the subak (the Balinese traditional irrigation system)
5. Thematic issue: Balinese customary law and tourism issues