UPSKILL (One Semester)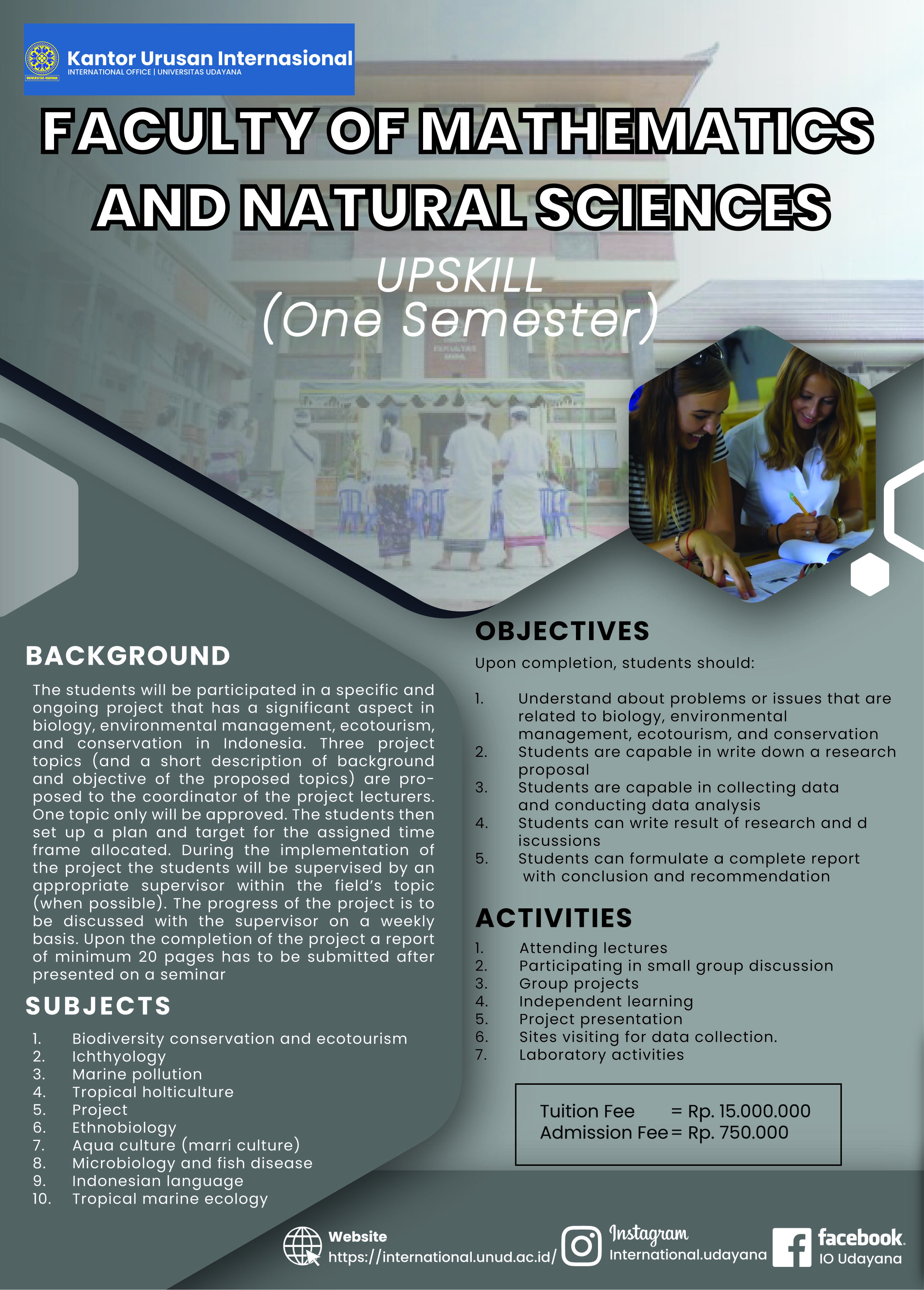 BACKGROUND
The students will be participated in a specific and ongoing project that has a significant aspect in biology, environmental management, ecotourism, and conservation in Indonesia. Three project topics (and a short description of background and objective of the proposed topics) are proposed to the coordinator of the project lecturers. One topic only will be approved. The students then set up a plan and target for the assigned time frame allocated. During the implementation of the project the students will be supervised by an appropriate supervisor within the field's topic (when possible). The progress of the project is to be discussed with the supervisor on a weekly basis. Upon the completion of the project a report of minimum 20 pages has to be submitted after presented on a seminar
OBJECTIVES
Upon completion, students should:
1. Understand about problems or issues that are related to biology, environmental management, ecotourism, and conservation
2. Students are capable in write down a research proposal
3. Students are capable in collecting data and conducting data analysis
4. Students can write result of research and discussions
5. Students can formulate a complete report with conclusion and recommendation
ACTIVITIES
1. Attending lectures
2. Participating in small group discussion
3. Group projects
4. Independent learning
5. Project presentation
6. Sites visiting for data collection.
7. Laboratory activities
SUBJECTS
1. Biodiversity conservation and ecotourism
2. Ichthyology
3. Marine pollution
4. Tropical holticulture
5. Project
6. Ethnobiology
7. Aqua culture (marri culture)
8. Microbiology and fish disease
9. Indonesian language
10. Tropical marine ecology