Agro-technology for Balinese Sustainable Tourism (Study Program of Agro-industrial Technology) (One semester)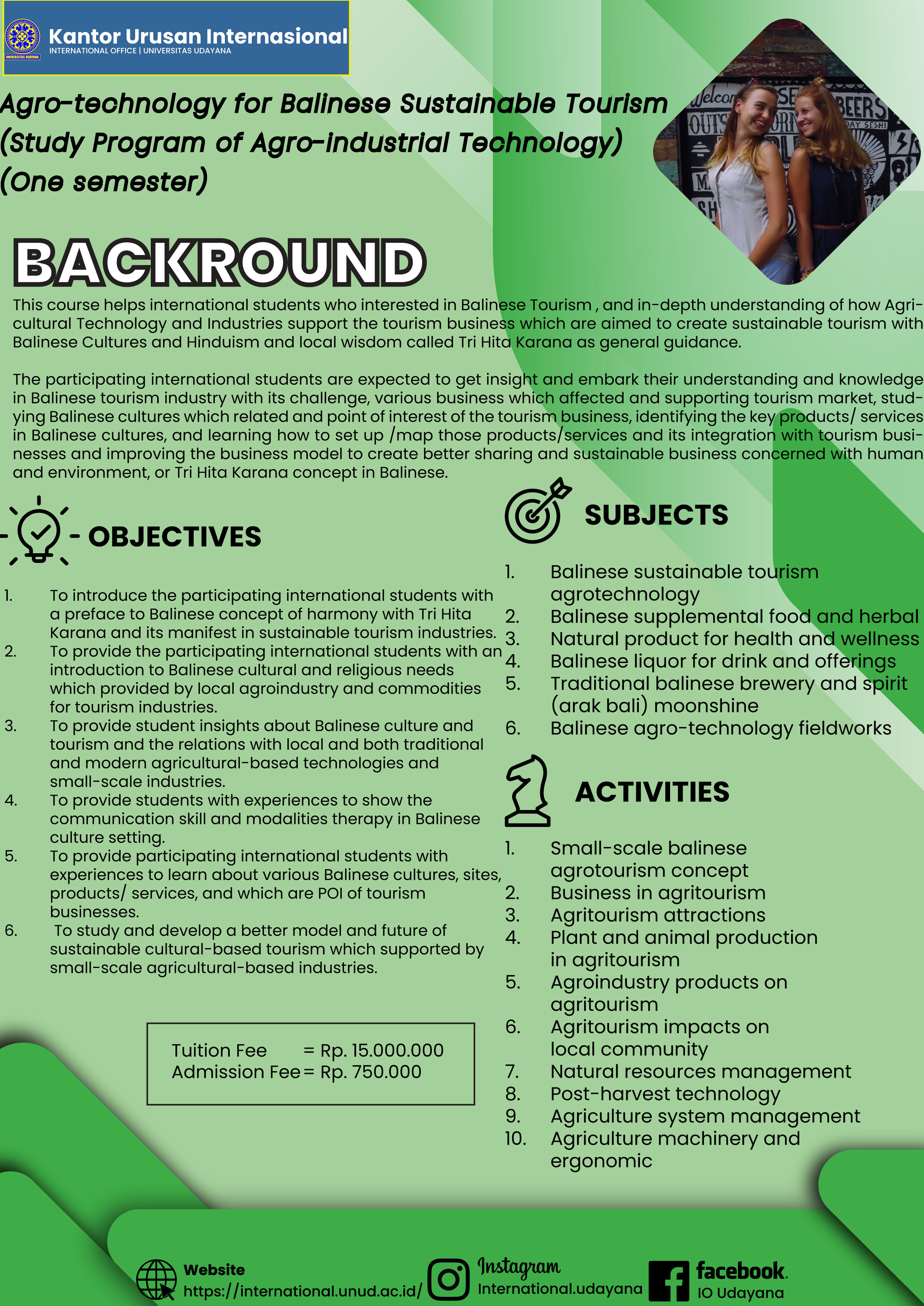 BACKGROUND
This course helps international students who interested in Balinese Tourism , and in-depth understanding of how Agricultural Technology and Industries support the tourism business which are aimed to create sustainable tourism with Balinese Cultures and Hinduism and local wisdom called Tri Hita Karana as general guidance.
The participating international students are expected to get insight and embark their understanding and knowledge in Balinese tourism industry with its challenge, various business which affected and supporting tourism market, studying Balinese cultures which related and point of interest of the tourism business, identifying the key products/ services in Balinese cultures, and learning how to set up /map those products/services and its integration with tourism businesses and improving the business model to create better sharing and sustainable business concerned with human and environment, or Tri Hita Karana concept in Balinese.
OBJECTIVES
1. To introduce the participating international students with a preface to Balinese concept of harmony with Tri Hita Karana and its manifest in sustainable tourism industries.
2. To provide the participating international students with an introduction to Balinese cultural and religious needs which provided by local agroindustry and commodities for tourism industries.
3. To provide student insights about Balinese culture and tourism and the relations with local and both traditional and modern agricultural-based technologies and small-scale industries.
4. To provide students with experiences to show the communication skill and modalities therapy in Balinese
culture setting.
5. To provide participating international students with experiences to learn about various Balinese cultures, sites, products/ services, and which are POI of tourism businesses.
6. To study and develop a better model and future of sustainable cultural-based tourism which supported by
small-scale agricultural-based industries.
ACTIVITIES
1. Small-scale balinese agrotourism concept
2. Business in agritourism
3. Agritourism attractions
4. Plant and animal production in agritourism
5. Agroindustry products on agritourism
6. Agritourism impacts on local community
7. Natural resources management
8. Post-harvest technology
9. Agriculture system management
10. Agriculture machinery and ergonomic
SUBJECTS
1. Balinese sustainable tourism agrotechnology
2. Balinese supplemental food and herbal
3. Natural product for health and wellness
4. Balinese liquor for drink and offerings
5. Traditional balinese brewery and spirit (arak bali) moonshine
6. Balinese agro-technology fieldworks