Gobali Master (1 Semester)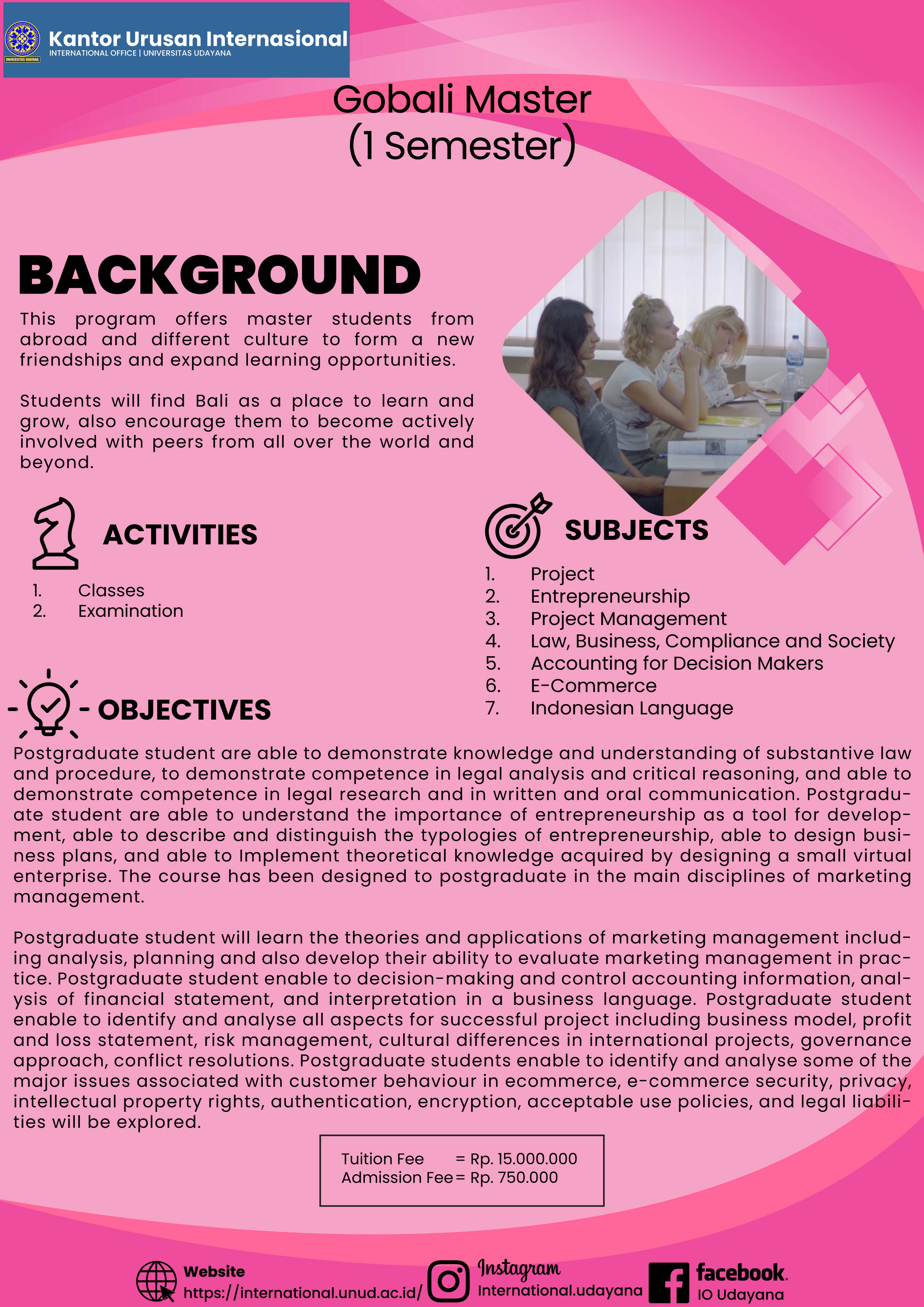 BACKGROUND
This program offers master students from abroad and different culture to form a new friendships and expand learning opportunities.
Students will find Bali as a place to learn and grow, also encourage them to become actively involved with peers from all over the world and beyond.
OBJECTIVES
Postgraduate student are able to demonstrate knowledge and understanding of substantive law and procedure, to demonstrate competence in legal analysis and critical reasoning, and able to demonstrate competence in legal research and in written and oral communication. Postgraduate student are able to understand the importance of entrepreneurship as a tool for development, able to describe and distinguish the typologies of entrepreneurship, able to design business plans, and able to Implement theoretical knowledge acquired by designing a small virtual enterprise. The course has been designed to postgraduate in the main disciplines of marketing management.
Postgraduate student will learn the theories and applications of marketing management including analysis, planning and also develop their ability to evaluate marketing management in practice. Postgraduate student enable to decision-making and control accounting information, analysis of financial statement, and interpretation in a business language. Postgraduate student enable to identify and analyse all aspects for successful project including business model, profit and loss statement, risk management, cultural differences in international projects, governance approach, conflict resolutions. Postgraduate students enable to identify and analyse some of the major issues associated with customer behaviour in ecommerce, e-commerce security, privacy, intellectual property rights, authentication, encryption, acceptable use policies, and legal liabilities will be explored.
ACTIVITIES
1. Classes
2. Examination
SUBJECTS
1. Project
2. Entrepreneurship
3. Project Management
4. Law, Business, Compliance and Society
5. Accounting for Decision Makers
6. E-Commerce
7. Indonesian Language

For Registration Please Kindly Check this Website :
https://www.gobali.org/