Tradition and Architecture (Study Program of Master Architecture) (Short Course)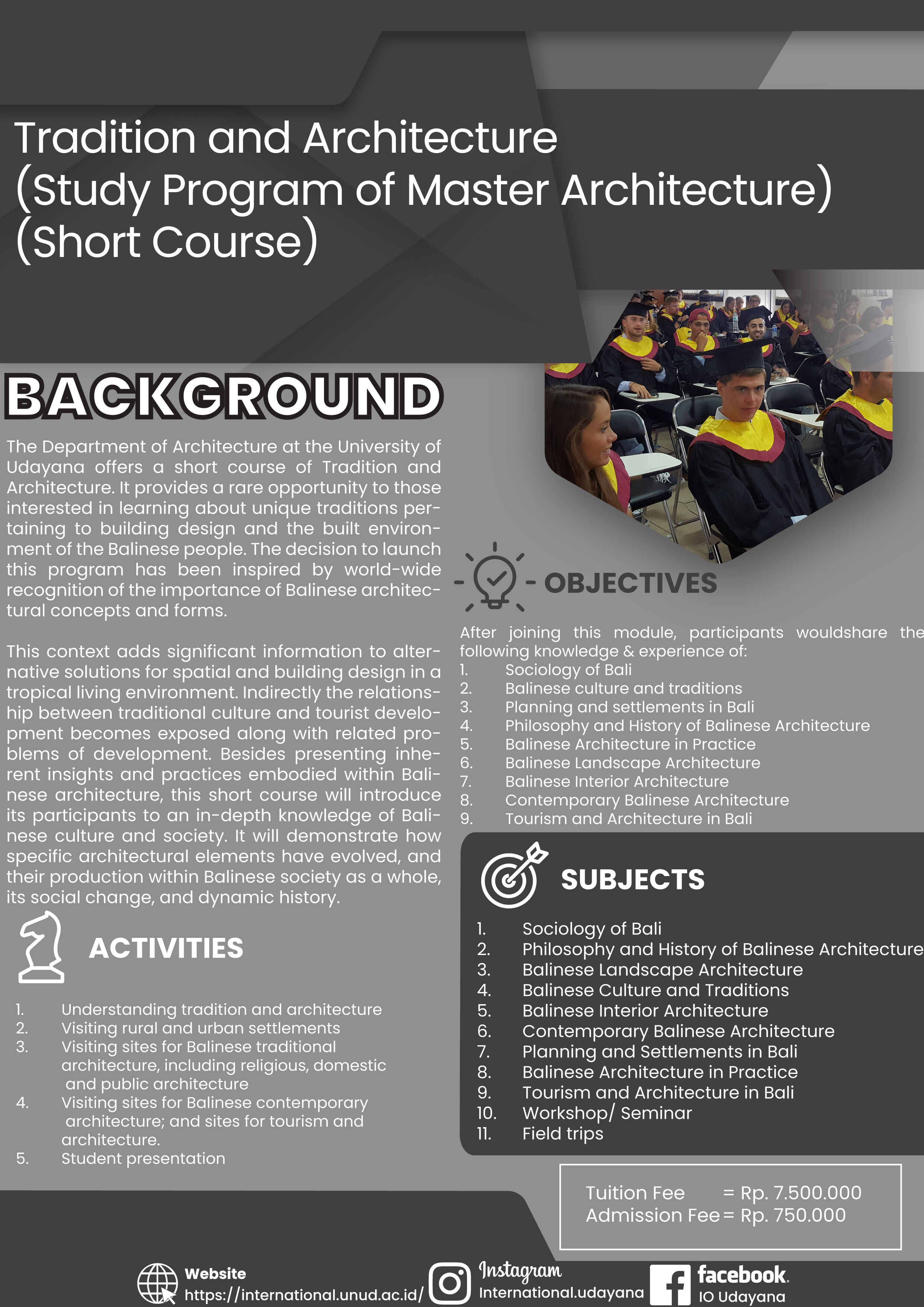 BACKGROUND
This context adds significant information to alternative solutions for spatial and building design in a tropical living environment. Indirectly the relationship between traditional culture and tourist development becomes exposed along with related problems of development. Besides presenting inherent insights and practices embodied within Balinese architecture, this short course will introduce its participants to an in-depth knowledge of Balinese culture and society. It will demonstrate how specific architectural elements have evolved, and their production within Balinese society as a whole, its social change, and dynamic history.
OBJECTIVES
After joining this module, participants wouldshare the following knowledge & experience of:
1. Sociology of Bali
2. Balinese culture and traditions
3. Planning and settlements in Bali
4. Philosophy and History of Balinese Architecture
5. Balinese Architecture in Practice
6. Balinese Landscape Architecture
7. Balinese Interior Architecture
8. Contemporary Balinese Architecture
9. Tourism and Architecture in Bali
ACTIVITIES
1. Understanding tradition and architecture
2. Visiting rural and urban settlements
3. Visiting sites for Balinese traditional
architecture, including religious, domestic
and public architecture
4. Visiting sites for Balinese contemporary
architecture; and sites for tourism and
architecture.
5. Student presentation
SUBJECTS
1. Sociology of Bali
2. Philosophy and History of Balinese Architecture
3. Balinese Landscape Architecture
4. Balinese Culture and Traditions
5. Balinese Interior Architecture
6. Contemporary Balinese Architecture
7. Planning and Settlements in Bali
8. Balinese Architecture in Practice
9. Tourism and Architecture in Bali
10. Workshop/ Seminar
11. Field trips