Tropical Horticulture (Study Program of Biology) (Short Course)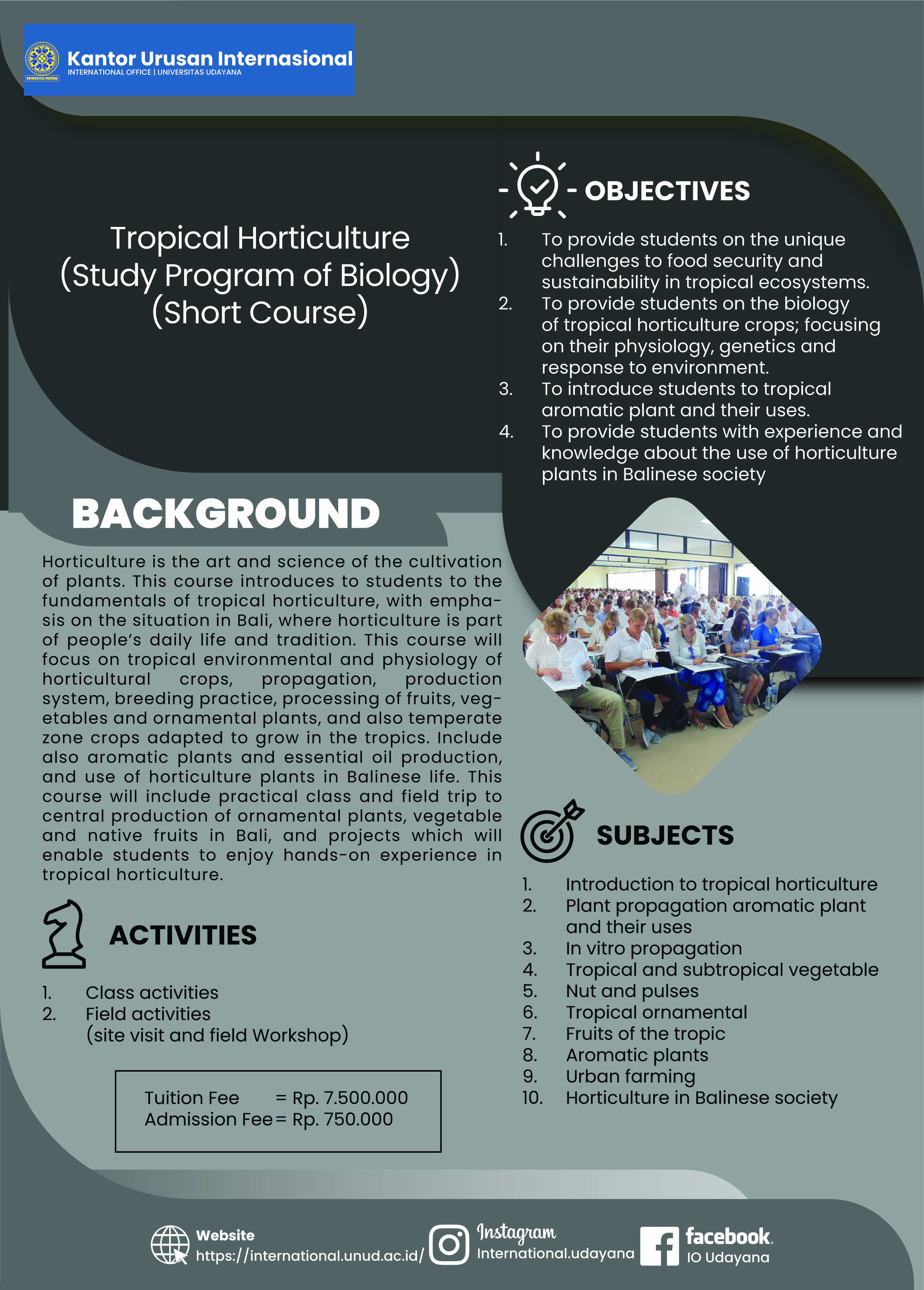 BACKGROUND
Horticulture is the art and science of the cultivation of plants. This course introduces to students to the fundamentals of tropical horticulture, with emphasis on the situation in Bali, where horticulture is part of people's daily life and tradition. This course will focus on tropical environmental and physiology of horticultural crops, propagation, production system, breeding practice, processing of fruits, vegetables and ornamental plants, and also temperate zone crops adapted to grow in the tropics. Include also aromatic plants and essential oil production, and use of horticulture plants in Balinese life. This course will include practical class and field trip to central production of ornamental plants, vegetable and native fruits in Bali, and projects which will enable students to enjoy hands-on experience in tropical horticulture.
OBJECTIVES
1. To provide students on the unique challenges to food security and sustainability in tropical ecosystems.
2. To provide students on the biology of tropical horticulture crops; focusing on their physiology, genetics and
response to environment.
3. To introduce students to tropical aromatic plant and their uses.
4. To provide students with experience and knowledge about the use of horticulture plants in Balinese society
ACTIVITIES
1. Class activities
2. Field activities (site visit and field Workshop)
SUBJECTS
1. Introduction to tropical horticulture
2. Plant propagation aromatic plant and their uses
3. In vitro propagation
4. Tropical and subtropical vegetable
5. Nut and pulses
6. Tropical ornamental
7. Fruits of the tropic
8. Aromatic plants
9. Urban farming
10. Horticulture in Balinese society