Open for Application: Balinese Community Culture Program 2021!
University
Posted by: Admin
Sabtu, 26 Juni 2021
Has been read 291 time(s)
OVERVIEW

Balinese Community Culture Program (BCCP) is designed for international students who are interested in learning and experiencing Balinese Culture virtually. This program offers a complete package of Balinese Community Culture such as languages, art (dances, costumes, masks, architectures and rituals), philosophy (Tri Hita Karana: A Balinese Concept for harmonious living), traditional and complementary medicine as well as food and beverages. In addition, the program provides a guided principles when travelling to Bali from point of interests to law and regulations. All the courses are delivered virtually through academic discussion, virtual tour of Balinese community-based tourism and interactive activities.
OBJECTIVES
By the end of this program, participants are expected to have the competencies to identify community cultural activities, map the challenge and construct a model of a community-based tourism.
ELIGIBILITY
Current students of a university, proven by student ID Card (undergraduate and postgraduates are welcome to apply).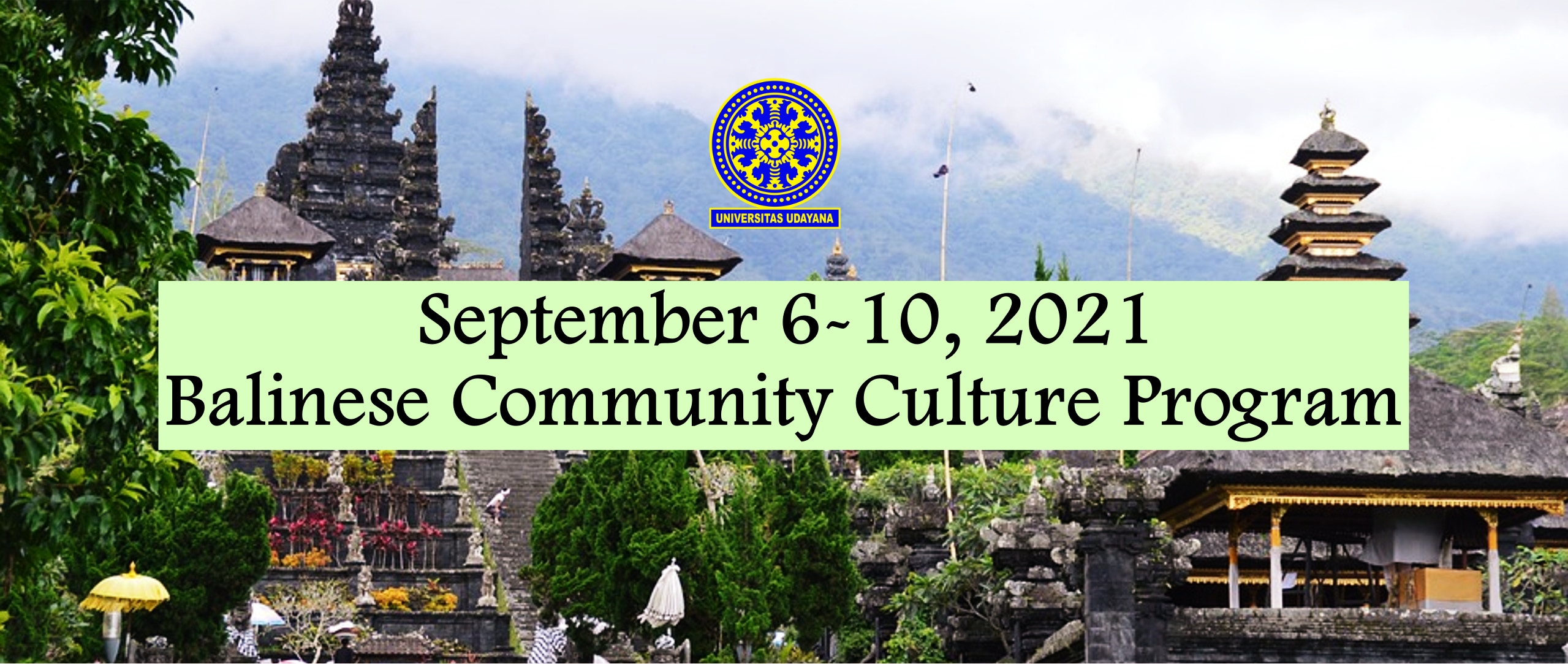 REQUIREMENTS
Scanned Student ID

English Proficiency Certificate

Transcript/Academic Record

Recommendation Letter

Letter of Motivation

Curriculum Vitae/Resume

Passport size photo
*Not required for Students who are from the institution whom medium of instruction is in English
IMPORTANT DATES
Application deadline: August 27, 2021 (11:59 WITA/ GMT+8)

Announcement: September 1, 2021

Program: September 6 – 10, 2021
APPLICATION PROCEDURE
Eligible applicants must fill online application form at https://bit.ly/BCCP_Registration_Form

BCCP team will review and assess all online application. Please be advised that the submission sent after the deadline will not be reviewed.

BCCP team will announce the selected participants on the designated date.

The selected participant must make program fee payment $100.

Should you need further information regarding application process, do not hesitate to send your inquiry to international@unud.ac.id
PROGRAM BENEFITS
E-certificate

Transferrable Credit Course (The credits transfer is based on each university's policies. (15 hours online learning, 16 hours independent learning and 16 hours project assignment).
REGISTRATION HERE
https://bit.ly/BCCP_Registration_Form