Biodiversity Conservation and Ecotourism (Study Program of Biology) (One Semester)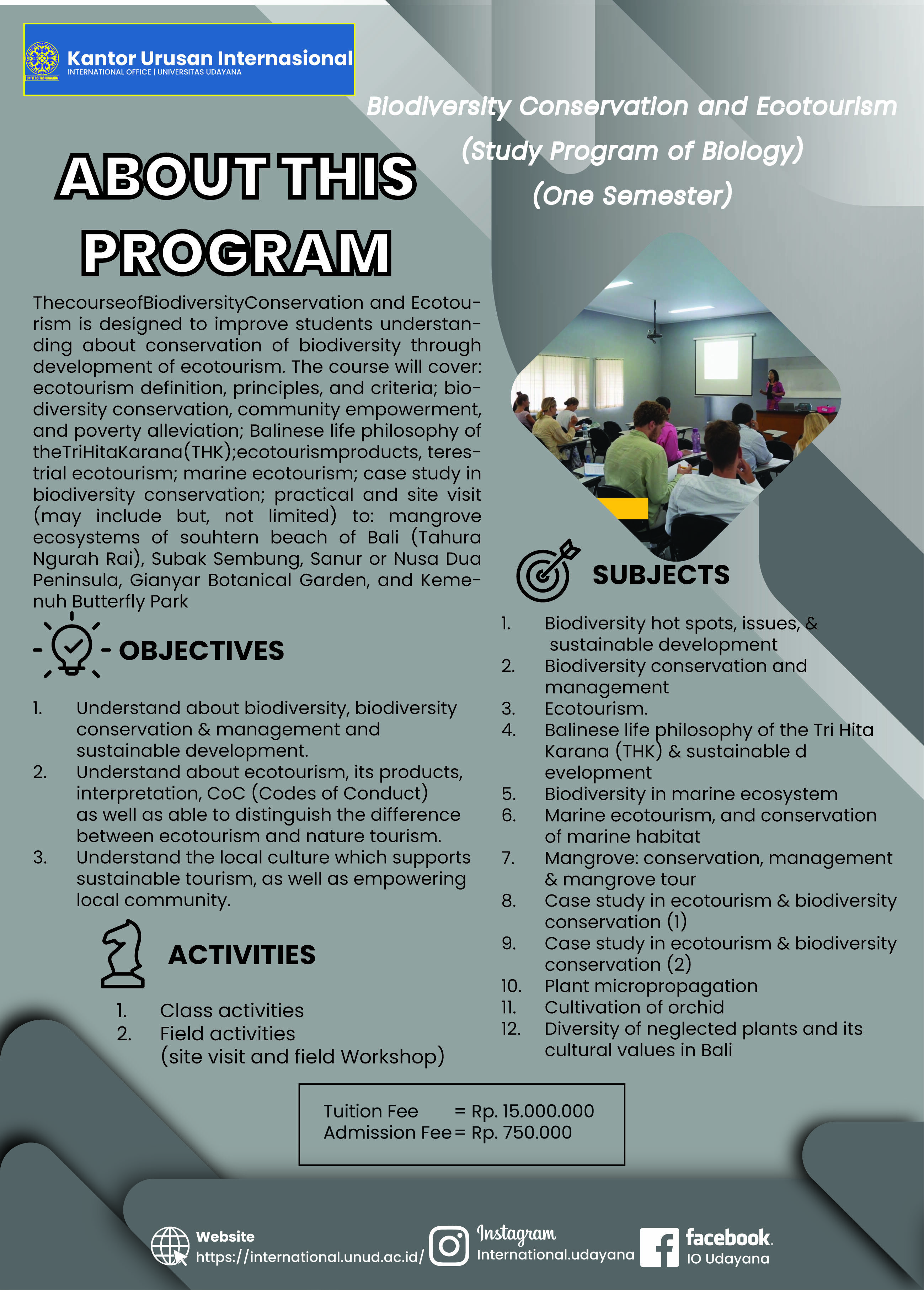 BACKGROUND
ThecourseofBiodiversityConservation and Ecotourism is designed to improve students understanding about conservation of biodiversity through development of ecotourism. The course will cover: ecotourism definition, principles, and criteria; biodiversity conservation, community empowerment, and poverty alleviation; Balinese life philosophy of theTriHitaKarana(THK);ecotourismproducts, terestrial ecotourism; marine ecotourism; case study in biodiversity conservation; practical and site visit (may include but, not limited) to: mangrove ecosystems of souhtern beach of Bali (Tahura Ngurah Rai), Subak Sembung, Sanur or Nusa Dua Peninsula, Gianyar Botanical Garden, and Kemenuh Butterfly Park
OBJECTIVES
1. Understand about biodiversity, biodiversity conservation & management and sustainable development.
2. Understand about ecotourism, its products, interpretation, CoC (Codes of Conduct) as well as able to distinguish the difference
between ecotourism and nature tourism.
3. Understand the local culture which supports sustainable tourism, as well as empowering local community.
4. Be able to evaluate in implementation of sustainable tourism in a hotel, tourist attraction, tourist destination, etc.
ACTIVITIES
1. Class activities
2. Field activities (site visit and field Workshop)
SUBJECTS
1. Biodiversity hot spots, issues, & sustainable development
2. Biodiversity conservation and management
3. Ecotourism.
4. Balinese life philosophy of the Tri Hita Karana (THK) & sustainable development
5. Biodiversity in marine ecosystem
6. Marine ecotourism, and conservation of marine habitat
7. Mangrove: conservation, management & mangrove tour
8. Case study in ecotourism & biodiversity conservation (1)
9. Case study in ecotourism & biodiversity conservation (2)
10. Plant micropropagation
11. Cultivation of orchid
12. Diversity of neglected plants and its cultural values in Bali
13. Medicinal plants of Bali